The time capsule that was buried in 1970 in the south lawn of the Hamblen County Courthouse has been opened, and the contents are ruined.
Hamblen County Register of Deeds Jim Clawson, who is leading the effort to recover the capsule, was downcast as he described the contents.
"We had dug it up August 27 in preparation for the ceremony we were going to have on September 18 on the south lawn," he said. "We found the contents wet, soiled and most of it is unidentifiable. Terry Myers and the maintenance staff have cleaned it up to the best of their ability."
When workers unearthed the capsule and examined its content, they discovered there had not been quite enough water sealing in the vault.
"There was a vault about three-and-a-half feet deep- the problem was, in the vault, they did not put the materials in a time capsule inside of the vault," Clawson said. "(The items were in) plastic bags, double wrapped. The vault took on water through the years and everything was spoiled."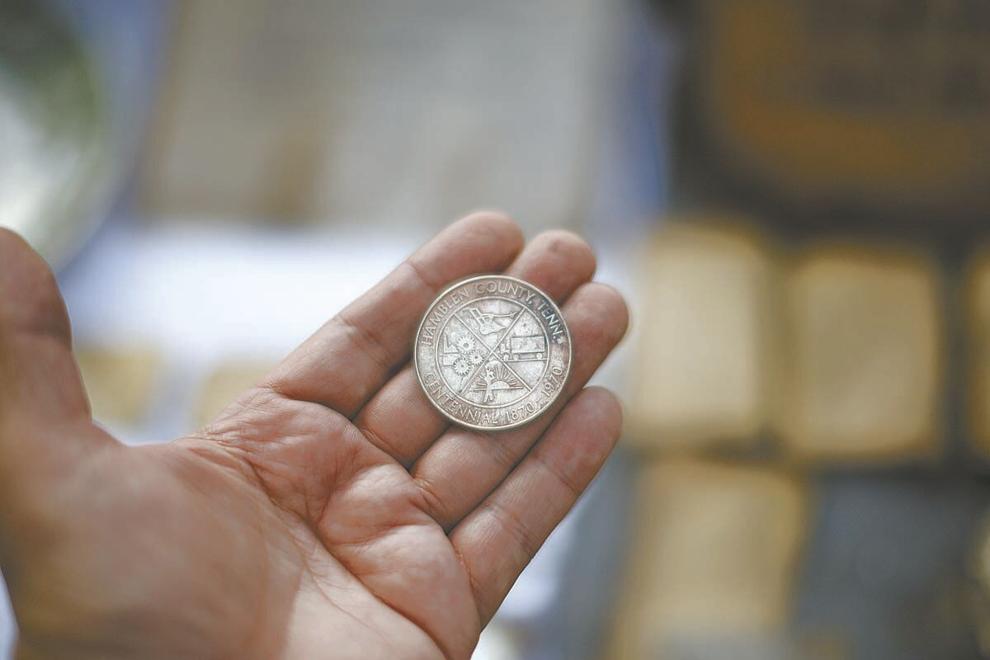 Some coins, a few pieces of jewelry, a commemorative plate and various waterlogged papers, including a laminated letter from Governor Buford Ellington, are all that remains of what appeared to be a substantial loss of history.
Gayle Bruce, widow of former Hamblen County Mayor Paul Bruce, said she had put three Kennedy silver dollar coins in the box in 1970. There were several such coins found in the vault. Bruce said she was happy be present to celebrate the milestone.
"I've been blessed to live in Morristown and Hamblen County all my life," she said.
Decades after her coins were buried, Bruce now has grown children, grandchildren and even one great-grandchild to mark the passage of time.
"They share the same experiences as I did - this is a progressive, great county to live in," she said.
The county is moving forward with plans to celebrate its history. While there may not be much in the way of contents to sort through, citizens of Hamblen County are being asked to come to the large courtroom at the Hamblen County Courthouse on Sept. 18 at 11 a.m. to submit new items for burial in a time capsule to be unearthed 50 years from now.
"We're going to put another capsule in the ground to be opened in 2070," Clawson said.
Hamblen County Mayor Bill Brittain predicts good things for Hamblen County in the next 50 years.
"I think we'll still be a leader in the area economically," he said. "I think it's important that leaders, not only in government, but in all sections of the community, make good decisions and look at long term goals like our predecessors did that we're benefitting from."