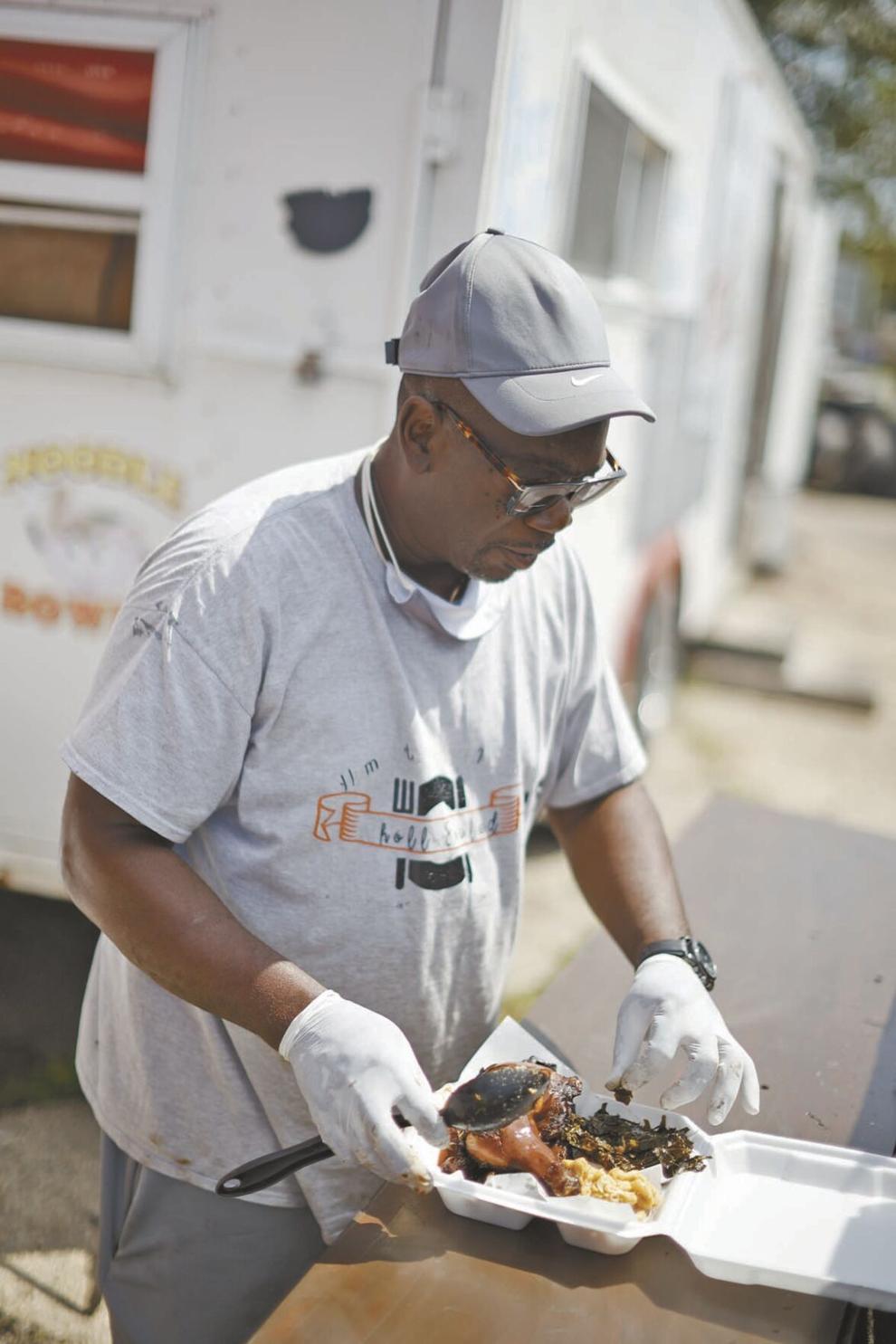 If someone is travelling down Buffalo Trail and smells the intoxicating scent of slow cooked ribs, they've probably stumbled across Wholly Souled Soul Food, a Memphis soul food trailer run by Henry McGowan and his grandson, Armani.
Ribs, pulled pork, smoked mac'n'cheese, collard greens and other slow cooked delectables are all on the menu. The trailer is usually set up across from the Walmart Neighborhood Market at the intersection of Buffalo Trail and N. Liberty Hill Road in Morristown.
"We moved here three years ago, and I've been cooking for 30 years in Wisconsin in fine dining," McGowan said. "I was born in Arkansas right around barbeque. My mother had a café. I've been around good soul food all my life. Everybody says they have good barbeque… but we were raised around that good oak and pecan. We smoked a lot of meat so I figured I'd take a chance and open up myself to cooking for Morristown."
McGowan has a faithful co-operator in his 15-year-old grandson.
Armani said he wants to make sure he's doing something positive in his life.
"I want to carry on his legacy," he said, looking over at the smoker. "And I want to learn how to cook."
It is an honor to have my grandson here learning there is a better life up here in the hills of East Tennessee," McGowan said. "Everybody wants the same thing- to live and enjoy life. He'll get this chance. One thing I love about Morristown is you got rich folk, workin' folk and poor folk all together and you can't tell who's who."
McGowan is said he is influenced by a Memphis style that reflects his background.
"I bring West Tennessee here, because I was born right next to the Mississippi River," he said. "What we have is a blend of seasonings that bring out the good flavors of the food. Here in East Tennessee you find different flavors than West Tennessee, so I combine gourmet, West Tennessee and what we have here in East Tennessee."
Kevin Hurley, a customer who was drawn in by the sight and smell of the smoker, said the collard greens were top notch.
"I love 'em," he said. "That's what collard greens are supposed to taste like."
"He said that he wants to expand the business by doing meal prep for busy families or for folks who can't cook for themselves.
McGowan has been making a home in Morristown since he moved here three years ago. He said the people around town and at his church, Mt. Moriah Tabernacle, have helped his faith.
"Being here in Morristown has reignited my love for Christ," he said. "I've found folks who genuinely love God and by that I mean they love on people with the love of God… so I take my hat off to Morristown, Tennessee."
McGowan said he loves the area.
"I wish I had been here 20 years ago," he said. "Being in Morristown, I've learned the beauty of people and the camaraderie."