Colortech and the Society of Plastics Engineers Foundation sponsored a plastics education program, PlastiVan, on Thursday at Lincoln Heights Middle School in Morristown.
The event, held at every Hamblen County middle school this week, helps students learn about plastics, including chemistry, manufacturing, sustainability and the industry's career opportunities.
"I like that it gives students an opportunity to see different things that they may not see in the classroom every day," Lincoln CTE Instructor Nathan Coffman said. "The plastics industry is huge around here and it lets them see what they could do for a career."
PlastiVan Educator John Fellenstein took students through a variety of experiments to show the various unique chemical properties of plastics.
"This program is about getting students excited about science and STEM (Science, Technology, Engineering and Math) and getting them to start thinking about careers in that field because we really need people in the STEM fields," he said. "And there's really, really good paying jobs and careers in both the polymer industry and other stem field."
Fellenstein said his favorite part of the program is interacting with the kids. There are experiments with polymers in diapers, "goo," and flash paper, which lights up students' faces figuratively and literally.
He said he wants students to know how much fun science can be.
"Science is really fun, and it's really cool," he said. "You can make a living doing something you love."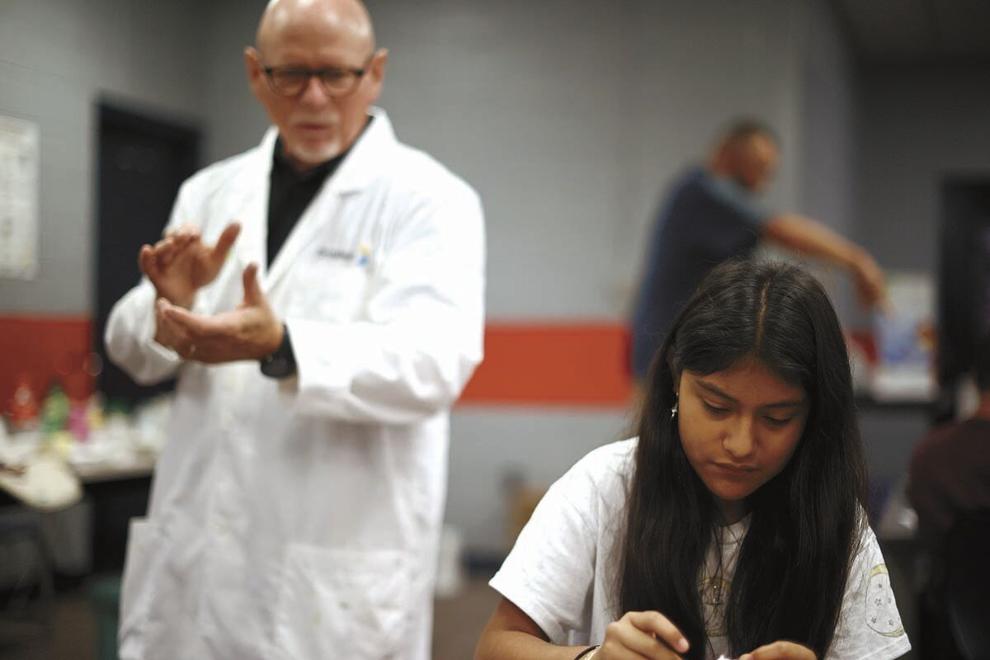 PlastiVan is a national education STEM outreach program delivered by the SPE Foundation geared for grades 3-12. The mobile program provides interactive activities to intrigue students while increasing their knowledge of the contribution that plastics make to modern life.
Colortech is one of many polymer-based industries in the area.
"We at Colortech are very excited to sponsor the SPE's PlastiVan for our Hamblen County middle school students," Colortech Vice President Adam Rankin said. "It's a wonderful chance to support our community and discuss how many different job opportunities Morristown offers upon graduation. It has also been valuable educating about the sustainability efforts of the plastics industry overall."
"By far, the best part has been seeing the excitement in students' faces as they described the hands-on experiments provided by PlastiVan. I think this experience probably inspired someone to consider a career in science or engineering in the future," he said.